GAPCares: extending our corporate mission of compassion outside the medical setting to our community.
Find us on Facebook for current projects and volunteer opportunities:
Upcoming Projects
Medshare International sorting medical supplies to be sent to developing countries
When: July 9th and August 27, 2016, 9 am-12 pm Where: 3240 Clifton Springs Rd, Decatur Contact: Marlene at mwaugh25@gmail.com
Hand Me Ups for Haiti Consignment sale supporting GAPCares Medical Mission Trip
When: Set up July 30-31, 2016, 9 am-5pm; Sale Aug 1-2, 2016, 7 am-8 pm Where: Wellstar Kennestone Hospital Green Lobby, 677 Church St, Marietta Contact: Cara at cara.m.gurney@gmail.com
Haiti Medical Mission Trip
When: October 2016 Where: Terrior Rouge, Haiti Contact: Lindsay at lindsayllogan@gmail.com Support: www.gofundme.com/GAPCaresHaiti
---
Past Projects
2016
NW Metro Atlanta Habitat for Humanity Build with washer and dryer donation
Haiti Medical Mission Trip with Athens Orthopedic Clinic and 5K Fundraiser
A Night to Shine Special Needs Prom
Paulding County Special Olympics Bowling, Track and Field Event, and Golf Tournament Fundraiser
2015
NW Metro Atlanta Habitat for Humanity Build with playset donation
Paulding County Special Olympics Track and Field Event and Golf Tournament Fundraiser
Hosea Feed The Hungry
---
Volunteer Spotlight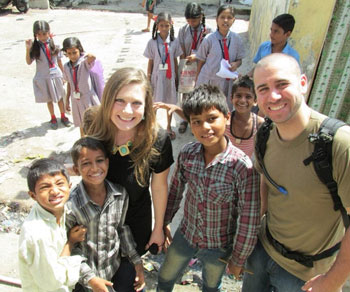 Our very own Tara Marchok is setting an example to live by, and we couldn't be more proud. Tara started volunteering with GAPCares as a student, designing our flyers and t-shirts for last year's Habitat project, and continues doing so this year. She's active at NorthStar Church volunteering every Sunday as a middle school leader, leading small groups along with her husband on marital and spiritual growth, and doing multiple community service projects throughout the year. As the Creative Director for the Mercy Project India, she will be returning in Feb 2016. She will be teaching the women job skills to provide for themselves and their families and hosting bible school for the kids. She loves her family, her dogs, traveling, and of course working with GAPC and GAPCares. Thank you Tara for all the work you do to make the world a better place!
---
Photo Gallery